Over the years we have seen advancement in technology and with this basic needs like clothes have got smarter too with the ability to embed technological devices into them " E-textiles". For an ordinary man let's call this wearable technology (not confusing it with smart watches). Now that; Our coats can now double as electric blankets, smart bra for tracking fitness data, smart shoes as motion-tracking pedometers and why not diagnose diseases with a smart wearable.
This will soon come true after a group of scientists from at the National University of Columbia in the School of Electric Technology has invented a bra that uses infrared technology to detect breast cancer and thus helping women all around the world to quickly and easily detect the disease in its earliest stages.
According to Fusion, the bra uses infrared sensors to monitor breast temperatures and warns the wearer if there is an irregularity in temperature, as cancerous cells have a higher temperature.
In breast tissue, any abnormal cells need an extra blood supply, and this consequently raises the temperature of the area. To detect a baseline temperature, the bra will do a scan when it is first put on, and it will give you a green light if there are no problems, a yellow light if you need to do it again and a red light signals you need to visit a doctor.  Developer Maria Camila Cortes further explained to Fusion.
When you have cells in your mammary glands that are anomalous, the body needs to send more blood to that specific part of the body, and the temperature of this organ increases…
Another researcher at the university, Maria Jaramillo explained the purpose of the cancer detecting bra.
We don't want to replace a doctor's job. The idea is to develop a technique that will help with [early] detection. It also keeps a record of temperatures, so doctors have a number of readings to consult.
According to the National Breast Cancer Foundation, breast cancer is the most commonly diagnosed cancer in women, and one in eight women will be diagnosed in their lifetime. It is also the second leading cause of cancer death among women, with lung cancer being first. The exact causes of breast cancer are unclear, but there are various risk factors. The most significant risk factor are advancing age and family history, but there are also other lifestyle factors such as alcohol consumption, smoking, and being overweight.
The graph below shows that in 2012, white women had the highest rate of getting breast cancer, followed by black, Hispanic, Asian/Pacific Islander, and American Indian/Alaska Native women.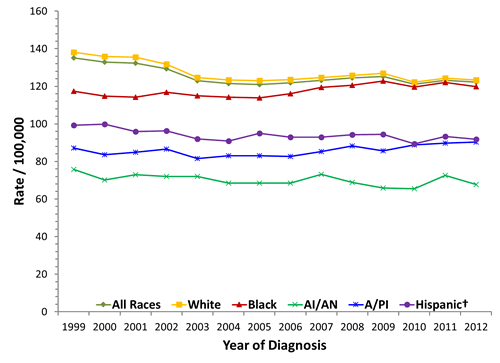 According to the inventors of the bra, there is hope that the invention will save thousands of lives around the world through detecting breast cancer in its earliest stages. Although there is currently just one bra in existence, they plan to have the bra mass produced and be made easily available to women and at a relatively low price.