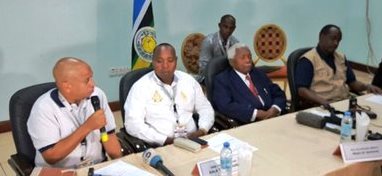 The former Tanzanian president, HE. Ali Hassan Mwinyi has launched the EAC electoral observing group today in Kampala with a call for a serious role, and free and fair electoral process by the citizens of Uganda. According to Mwinyi who also heads the EAC electoral observing group, Uganda's going through the electoral time is a sign of democracy as wellspelt in the regional constitution.  He took off time to applaud the government of Uganda for fulfilling the mandate as called by the regional governing body.
H.E. Mwinyi challenges the country to exercise freedom and transparency as they go through the 2016 electoral exercise so as to have new and better leadership that will steer this nation for the next five years.
However, the EAC  secretary general Richard Sezibwera notes that the over 50 observers from all the four member states will be sent to different parts of the country to do the observation part and will be in the country till the 21st of February and will produce their preliminary report before leaving the country.
The EAC observer mission comprises of EALA members, CSOs, EAC youth, and others from the EAC secretariat.