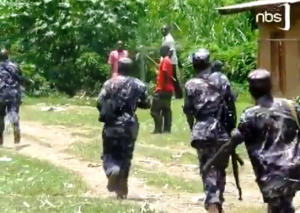 Parliament has directed the parliamentary committee on Defense and Internal Affairs to investigate the on going killings in Kasese district. The order was issued by the deputy speaker of parliament Jacob Oulanyah upon parliament approval. This after the minister of Internal Affairs Rose Akol and Kasese opposition MPs were giving parliament conflicting statements on the on going killings in Kasese.
The minister Rose Akol  had told parliament that four UPDF Soldiers were stabbed by the attackers who tried to  grab their guns and in reaction to this, the patrol unit fired in the air and on the ground in a bid to scare them off. She added that in light of this the attackers instead charged on and two of the attackers were shot in the process.
MPs from Kasese district who include Busongola north county and Kasese woman mp Winfred Kiiza disgreed with minister's statement saying it was not giving the reflection of the true picture of what happened on ground as people were being killed by security officers. Basing on this the deputy speaker told the defence and Internal Affairs committee to investigate this matter in Kasese and give parliament a comprehensive report within two weeks.
However, minister Rose Akol  cautioned those misleading the youth into engaging in reckless, and meaningless attacks on the security forces and other innocent people to desist from this criminality, warning that  the law will catch up with them. She called upon the Obusinga Bwa Rwenzururu Cultural Institution, as well as other cultural institutions in the region and in the country to cooperate with security forces to engage, particularly the youth against getting themselves involved in violence, and ensure that business, and the life of ordinary people in Kasese District, and the sub region as a whole goes on, normally without disturbance from irresponsible, reckless, and dangerous criminal activities.