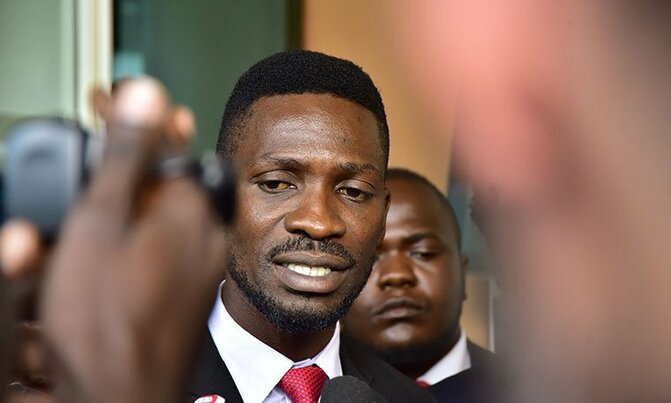 Robert Kyagulanyi Ssentamu, known to many by his stage name of H.E. Bobi Wine, is set to appear before the Independent Electoral Commission this morning to be nominated to contest for the country's topmost seat.
If nominated, he will be joining candidate Yoweri Museveni, and two other former military Generals; Mugisha Muntu and Henry Tumukunde in vying for the country's topmost seat. The three were cleared yesterday
Kyagulanyi said he was ready to co-operate with the Police to ensure that his nomination is a success.
He said the Police had informed that they would be providing a lead car for him as he takes the mapped out route to the nomination venue in Kyambogo.
"They've also determined a route for me; which I have agreed with because most importantly I want to reach the nomination centre in time," he said.
Kyagulanyi, who rose through ranks from being known as a musician to a Member of Parliament for Kyadondo East constituency in Wakiso district, is the National Unity Platform Party President.
On Day One of the presidential nominations exercise, two candidates; Nancy Nakalembe and John Katumba; were turned away, for lack of all the required details by the Electoral Commission.
Apart from Kyagulanyi, others expected to show up for the nominations today include; Willy Mayambala who is an Independent, and the Forum for Democratic Change's Amuriat Oboi Patrick. The other two Independents Fred Mwesigye and Joseph Kizza Kabuleta are expected later in the evening.
More candidates may be cleared by the Electoral Commission, to get nominated.
The EC spokesperson, Paul Bukenya, on Sunday this week told New Vision that more candidates were likely to be cleared.
A total of 13 more candidates have submitted their forms and were undergoing scrutiny, ahead of being cleared to get nominated. The EC decided to start with the 10 candidates who had been cleared by Thursday last week.
Bukenya said: "Those that have not yet been verified and cleared still stand a chance (to be allowed to show up for nomination