Despite the prevailing COVID-19 pandemic that has reduced opportunities for children, especially the orphans, they still wear a smile on their faces.
Olive Birungi Lumonya, National Director SOS Children's Village Uganda, a Civil Society Organisation said with the effects of COVID-19, organizations dealing with children should begin laying strategies to raise the funds locally.
According to Lumonya, some of the challenges of looking after children can be overcome if the organizations went into private partnership and signing a memorandum of understanding to be supported for longer durations.
She proposed measures to allow individuals to come and support them.
"It's time for Ugandans to overcome their problems to see that we maintain the life of these children to grow up as good citizens. The love we give them will contribute to their upbringing as future leaders," Lumonya said.
She made the call while receiving an assortment of items from China Communication Construction Company (CCCC), Entebbe Municipality in Wakiso district on Saturday.
Among the essential items required for the well-being of children Lumonya received included; face masks, Sanitizers, sugar, sanitary pads, maize flour and soap, among others.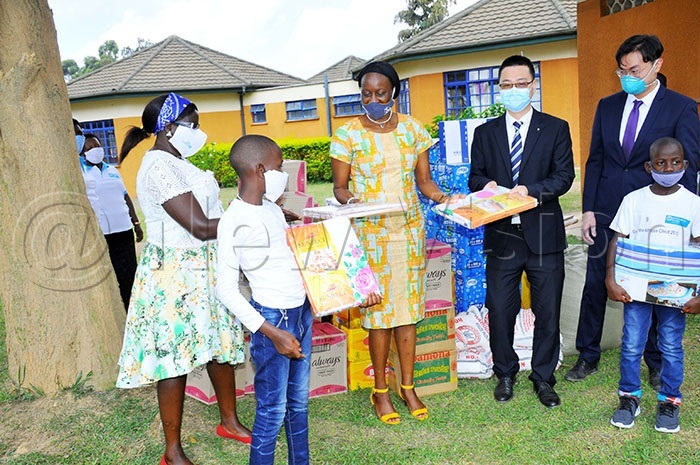 "At the moment we look after 645 children in all our locations of Kakiri, Gulu, Fort-Portal and here in Entebbe. We also support 20,000 children in the communities to see that they grow up into well as meaningful citizens," She said.
She alluded that the effects of Covid-19 may not give donors any more opportunity to part with money since some of them lost jobs and businesses where they used to get surplus to support us.
"Currently, the country faces the challenges of youth who got pregnant due to their stay at home, they may not be able to take care of their babies and they end up in our hands," she said.
Lumonya revealed that they are carrying out negotiations with corporate companies to fund them locally by signing memorandums of understanding to serve for a longer duration and appealed to individuals to support children throughout the country.
"We are now focusing on the family strengthening programs to reduce the number of family separations and empower families to look after their children with much emphasis on children without parental care," she added.
Bao Zhiqiao, Country Manager CCCC said although these children move with smiles on their faces, they are full of innocence whereby, there is a lot of desire to continue living a joyous life like others.
"These children need parental support from society to visit them, share and show love to them as they grow up", he said.
According to Police, 4, 442 cases of defilement were reported from January to April