When passion meets purpose, our lives become meaningful and then impactful.
I met Gloria Laker Aciro Adiiki. She is one of Uganda's female journalists who has covered war stories. She narrates the story to AWiM News below:
Gloria narrates, "As a former war and peace reporter during the northern Uganda LRA war, this is my peacebuilding story on how I reported the war.
As a young displaced girl back in 1997, it was challenging to enter the newsroom with no experience and no journalism training. In addition, my living condition as a displaced girl was appalling. I was exposed to sexual harassment, name callings just for being a girl holding a camera because society at the time saw news reporting as a male job. Amidst these, my living condition was pathetic, imagine sleeping on cold verandas behind tall buildings to avoid rebel abduction. During this time, nearly all social services shut down due to the rebellion.
It was a difficult period. My parents fed us on the little available relief food since we had run away from our village and got displaced in the town suburbs where we lived in a miller machine house built and roofed with only iron sheets, associated with extreme cold at night and extreme heat during the day. Inside there was a maize miller machine, which also was not safe as the rebels were raiding town suburbs hence the reason we had to always move with our beddings (local mats and blankets) to sleep on verandas of town buildings, we were called "night commuters".
This was equally difficult for all the journalists displaced by the war yet we had to report the conflict.
Every morning, my young siblings walked back to the miller, our second home with my mum to prepare for school. I would head to the newsroom carrying a polythene bag and inside was extra cloth. I began my journalism career with New Vision. In the office, we had a good washroom and from here I was able to take a bath, dress and wait for my colleagues Pelegrine Otonga, James Oweka and Dennis Ojwee to come so that we conduct our daily editorial meetings.
  What kept her going
Despite all the challenges, I was so determined to tell the world about the human rights violations and impact of the war on vulnerable people including my family and the entire Acholi community.
The suffering turned me into a strong and determined journalist. So I courageously put in a lot of effort in learning how to write war stories from my experienced colleagues and with the support of Pelegrine Otonga who was our editor and a senior journalist. I quickly learnt nearly all the basics fast, thanks to Pelegrine who would not allow me to go to the field without James or any other male journalists. He made sure I was in the company of a male reporter for my safety. Pelegrine protected me after my dad took me to New Vision offices when I insisted I wanted to report about the war, and he told Pelegrin to train and protect me. Given my achievements today, I am proud to say Pelegrine did well.
Reporting the LRA war was associated with watching terrific scenes such as dead bodies, landmine blasts, bullet wounds, and burnt trucks and the malnourished children and child soldiers rescued from the rebels.
Imagine photographing dead bodies with flies oozing over these bodies, imagine taking pictures of malnourished rescued people from the rebels with peeling feet full of pus.
Courageously and as a youth at that time, the more I saw these pathetic conditions, the more I wanted the war known so that the international community could come to our rescue because as time went on the LRA rebels had become impossible to counter. The rebels were flamboyant, dangerously destructive and very elusive to catch.
Coining peace stories in war reporting
With all the atrocities, with no signs of the war coming to an end, my colleagues and I began redirecting our reporting from the victimizing alarming reports we were filing to angling peace stories which help in pushing parties to dialogue and this created room for subsequent peace talks. In achieving this, we became one united peace mouthpiece/voice regardless of the different media organisations, we had one goal to report the war in ways that could reconcile people.
Practically, one of the things we did was to choose our words carefully and built good relations with the government soldiers because they were our only sure and safe means of transport to rebel-infested areas. "However, this did not compromise our reporting principles of objective journalism." At this time the government army needed us as much as we needed them.
As time went on the rebels also began speaking to us on realising the power of the media in conflict.
However, to improve on my reporting, I had to do several short causes in line with war and peace reporting, thanks to my mentor Ms Margaret Sentamu, Executive Director of Uganda Media Women's Association who identified me and covered my fees and I was able to do a diploma in journalism. I am proud of Ms Margaret because her sacrifices and efforts in bringing up female journalists have turned me into the journalist I am today, she boosted my commitment to war and peace reporting and this laid a strong foundation for me, first as a war reporter then as a peace journalist and later I was able to go to the university and studied a bachelor's degree in Journalism and Mass Communication.
Towards the period of the peace process, more young girls emerged and they did cover the conflict and post-war errors extremely well. They had more advantages with the coming of the internet, unlike our time when we had to walk every evening to the only fax machine in the district at the post office, line up and fax our story for the day hence this challenge moulded me to a strong and determined female journalist.
My experience and my colleagues made me become a more confident female journalist in reporting conflict areas and promoted peace journalism work in Uganda."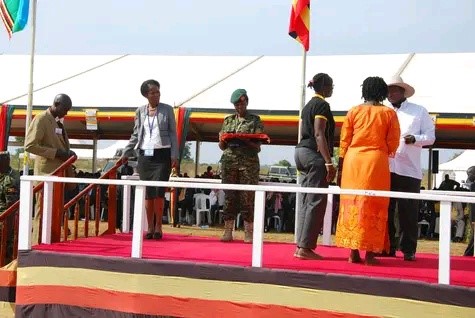 As a result, Gloria has received recognition and awards for her peace reporting. In 2022 October, she was one of the six finalists for the United State Institute for Peace, 2022 Women Building Peace finalist, and in 2019 Gloria was honoured and awarded with a presidential Golden Jubilee Medal by Ugandan President Yoweri Museveni for her contribution to peace in northern Uganda.
In 2016, Gloria was honoured and featured on BBC Outlook as an inspirational journalist for risking her life and covering the LRA war. In 2008 Gloria won a BBC communicating justice project in Uganda as the best journalist.
In April 2011 Gloria was awarded by Centre for Global Peace Journalism at Park University USA for outstanding performance in the implementation of peace and electoral project.
Gloria now uses her experience to train and mentor young African journalists on the roles of the media in peacebuilding and conflict management. Her effort is geared towards preventing media-induced violence and encouraging peace reporting and she is doing this through the Peace Journalism Foundation she established.
The passionate journalist is amplifying UNESCO's vision of achieving lasting peace and security all over the world.
She has influenced several journalists in Uganda that can advocate for peace. The city of Gulu where the war had broken out is getting peaceful bit by bit as people resettle in.
Different Organisations like War Victims and Children's Networking have also come up to ensure that returnee victims and children are completely resettled back into the community. After ten years there are still several challenges as said by former LRA abductee Stella Lanaam. She said the war victim's children cannot access national identity cards as most of them were as a result of rape, or unwanted sex and others were deserted by their parents. She called upon the government under NIRA (National Registration Authority) to be flexible for these children to access national Identity cards.
This story is part of African Women in Media (AWiM)/UNESCO Peace and Security Journalism Programme