At the turn of the new millennium, the leaders of 191 nations agreed that together they have the resources and the political will to eradicate the extreme poverty, hunger and diseases that kill millions of people each year in the poorest parts of the world. By stating this, the leaders were as good as saying, "let us eradicate ill-health".
They then came up with eight points (Millennium Development Goals) to help achieve their dream by 2015.
The millennium development goals include; eradication of extreme poverty and hunger, achieving universal primary education, promotion of gender equality and empower women, reduction of child mortality, improving maternal health, to combat HIV/AIDS, malaria, and other diseases, to ensure environmental sustainability and to develop a global partnership for development.
Three of the eight MDGs touch on people's health directly while others have indirect linkages to health. This means that health is a very important pillar in the development of nations and their people.
But how is Uganda's health system organized and planned so as to accord the citizens reasonable health services and fulfil the above health aspirtations?
The structure of Uganda's health system
Uganda's health system has structures right from the village level to the national level. According to the Ministry of Health, this structure is put in place to provide preventive, proactive, curative and rehabilitative health services to all Ugandans.
At the village level there is supposed to be a Health Centre 1 also called the Village Health Team (VHT) mandated to mobilize and the empower the community for health action. The VHT is comprised of 9-10 people with women's participation promoted through affirmative action requirement of at least 1/3 of the members being women.
The center mobilizes a population of approximately 1,000 people for programs such as immunization, malaria control, sanitation and construction and promotion of health seeking behavior and lifestyle.
From the village level, another health facility is found at the parish level serving a much bigger population of 5,000 people. This health unit is called Health Center 11 and represents the first level of interface between formal health sector and the communities.
However, it only provides ambulatory services, except in strategic locations where there is poor access to higher health facilities. At this level, an Enrolled Comprehensive Nurse is expected to provide comprehensive services and linkages with the Village Health Team.
Up in the hierarchy comes Health Centre 111 which offers communities basic preventive, promotive and curative care to a population of about 20,000 people and provides supervision of the community and HC11s facilities under its jurisdiction.
At the health center 111, there is also provisions of laboratory services for diagnosis, maternity care and first referral cover for the sub-county, which is also the first unit of local government.
Next in this ascending order is a General Hospital or Health Centre 1V whose leadership is located in an existing Public or Private-not-for-profit hospital. It provides basic preventive, curative and rehabilitative care to the immediate catchments and gives second level referral services including life-saving medical, surgical and obstetrical emergency care such as blood transfusion, caesarean section among others.
Health center 1Vs are at constituency level and are supposed to serve a population of between 100,000-500,000 people.
The District Health Team follows HC1V in hierarchy and is supposed to perform the functions of planning, budgeting, coordination, resource mobilization and monitoring the overall district performance of the health sector. However, poor logistics management, inadequate staffing, weak management capacity and poor working conditions have been cited as main factors undermining efficiency and effectiveness in many districts.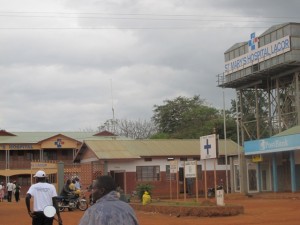 From General Hospitals, comes the Regional Hospitals. They provide all services found at General Hospital plus specialist services such as psychiatry, ear, nose and throat (ENT), radiology, pathology, ophthalmology, higher-level surgical and medical services including teaching and research.
The National Referral Hospitals are at the top of Uganda health system but below the Ministry of Health, which manages the whole health system. National Referral Hospitals, in addition to the services offered at the regional referral hospitals, provide comprehensive specialist services to all Ugandans.
According to the clinic commission at the ministry of health, the choice of which health unit to visit is left to the patients but with a caution to begin with the lower units and follow the system of referral. This helps to decongest higher-level units, which are supposed to handle specialized health conditions, though not exclusively.
Health infrastructure
After looking at the structure of the health system in Uganda, it is imperative to find out the number of hospitals, Health Centers, ambulances and other equipments present in the system to deliver service to the citizens.
According to the Health Sector Strategic Plan 11, 2005/06-2009/2010, Vol.1, Uganda is currently having 102 hospitals, of which two are national public referral hospital (Mulago and Butabika), 11 are regional, and 43 are General Hospitals-giving a total of 56 public hospitals. 42 are private not-for-profit hospitals, while 4 are private health practitioner hospitals.
However, these hospitals are characterized by frequent lack of adequate medicines perpetuated by corruption, drug theft by doctors who have private clinics and also poor economy, which cannot sufficiently stock these hospitals.
John Amanyire, a laboratory technician with Kampala International hospital, agrees that there is drug theft in all health establishments as a result of little pay and a corrupt society. He says that medical personnel especially in the public sector steal drugs from government health centers and hospitals and sell to private clinics or better still take the drugs to their private clinics.
Amanyire adds that rampant drug theft cause serious lack of drugs in hospitals and force the staff to prescribe under dose something he says has caused drug resistance especially among malaria patients.  This increases the morbidity rate mostly among the women and children who are more vulnerable.
The Annual Health Sector Performance Report 2004/2005 reported a monthly drug stock-out of 65%,69%,79%,and 52% at HC11,HC111 and HC1V respectively. Chloroquine tab registered a 21% stock-out while Oral rehydration salts had 27%.
This is not a healthy situation because whereas infrastructures exist, it's not a guarantee that people especially the poor will receive treatment.
In addition to the hospitals, Uganda has over 900 HC111s, 2273 HC11s and numerous HC1s. These like the hospitals are affected by inadequate drug stocks, staffing and financing, leave alone some parishes, sub-counties and constituencies that may lack these health units.
Accessibility
There are many factors, which surround the issue of accessibility to health series including distance to the nearest health unit, capacity to pay for the service, quality of the roads, availability of drugs, level of staffing among others.
Uganda is still among the least developed countries in the world. This means that the majority of Ugandans are poor and can hardly afford health services all the time. Over 38% of Ugandans are currently below the poverty line and poverty seems to be on the increase.
When poverty is coupled with corruption and drug theft, accessibility to health services is severely undermined and this creates a backward linkage to fuel poverty and human suffering.
The percentage of the population living within 5 kilometers radius of a health facility was reported in the Annual Health Sector Performance Report to be 72%. The remaining 28% of the people are still living more than 5 kilometres away from a health unit. In a country of poor road network and rampant poverty, there is still a long way to go.
The doctor patient ratio, which is 1 to over 18,000 (1:0ver 18,000) also affects accessibility of health services as people have to line up for one doctor for long hours resulting into preventable death, disability and fatigue on the side of the doctor.
However, despite of the inadequate staffing, lack of sufficient drugs, accessibility problems, high doctor patient ratio, drug theft, poor pay of medical personnel, Uganda has achieved a lot in the health sector.
Polio which was a leading killer disease in the 70s has been eradicated, HIV/AIDS reduced from over 18% to 6.4% by the end of 2005, safe water coverage now stands at over 65% and in some districts its well over 85%.
What now remains to be done is improving pay of the medical workers, increasing health financing from the 9.7% in 2004/2005 to at least 15% of the entire government budget, curtail drug theft and above all fight poverty to ensure a healthy health system.
Isingoma John, Ultimate Media