Cristiano Ronaldo will definitely be leaving Real Madrid and it is down to disagreements with Florentino Perez over his contract, according to the Portuguese media.
Spanish paper MARCA revealed that Madrid's director general Jose Angel Sanchez had a meeting with Ronaldo's agent, Jorge Mendes, last Tuesday where he explained that the club was not ready to meet his demands over a new deal.
Ronaldo is unhappy with Perez as he feels that he is not fulfilling a promise, it is stated in Record: "it is not a question of money but of recognition."
Along with this Ronaldo is not happy with the priority that is being given towards bringing in Neymar and Zidane's departure was another blow as little by little he has lost allies at the club like Pepe, Coentrao and James Rodriguez.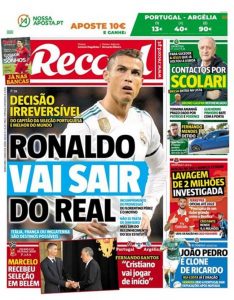 Ronaldo had a good relationship with Zidane over the way the Frenchman worked and gave him breaks, which also led to success, and Record concludes by saying that Italy, France and England are his possible destination now.
ALSO READ: Andy Murray reveals he is closing in on playing return in time for Wimbledon
ALSO READ: Cristiano Ronaldo already shows off his leg muscles one day into Portugal training camp