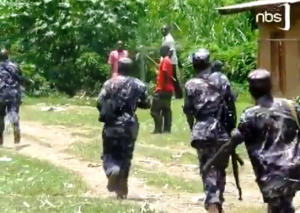 Some Members of Parliament have expressed concern  over government Security agencies which arrest supporters of the opposition parties aligning them as rebels who want to overthrow the government. The issues were been raised by Serere district Woman MP Alice Alaso during a plenary sitting chaired by the speaker of parliament Rebecca Kadaga. She says there is no genuine reasons why these supporters are arrested yet even their candidate Rtd Dr. Col Kizza Besigye failed to attain the top office.
MP Mbale Municipality MP Jack Wamanga Wamayi supported Alaso saying the labeling of Ugandans as rebels is not in Serere alone but in the entire country where people live in fear and panic for the unnecessary arrests going on after the general elections. Wamanga says the minister of Internal Affairs should also explain why there is army, police and other security agencies camping at Kololo Air ceremonial Grounds.
The Minister of Internal Affairs Rose Akol promises to engage the security personnel to investigate the allegations of framing and aligning people to rebel activities.